SPEC® CFP2006 Result
Copyright 2006-2014 Standard Performance Evaluation Corporation
Dell Inc. (Test Sponsor: The Portland Group)
PowerEdge 1950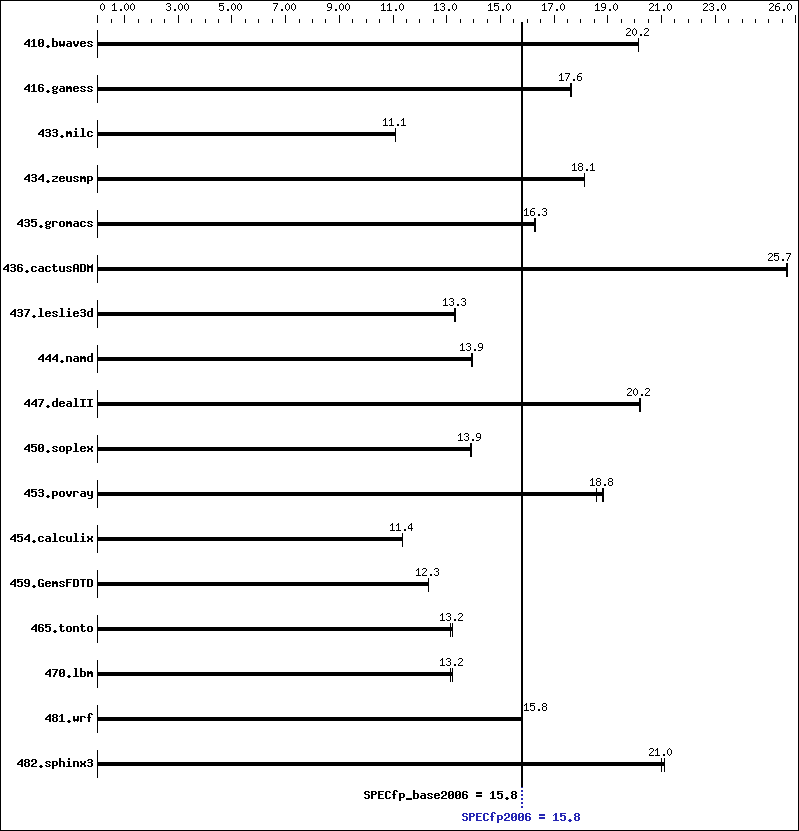 Environment stack size set to 'unlimited'
 For parallel runs (those compiled with "-Mconcur")
 the following environment variables were set:
   NCPUS = 2
   MP_BIND = yes
   MP_BLIST = 1,0

 NCPUS=n sets the number of threads to use to "n".
 MP_BIND=yes instructs the runtime to bind a thread to a core.
 MP_BLIST defines the thread-core relationship.
 The 4 1GB memory modules populated the first DIMM socket
 of each channel (0-3).

Same as Base Portability Flags
| | |
| --- | --- |
| 433.milc: | basepeak = yes |
| 470.lbm: | basepeak = yes |
| 482.sphinx3: | basepeak = yes |
| | |
| --- | --- |
| 444.namd: | basepeak = yes |
| 447.dealII: | basepeak = yes |
| 450.soplex: | basepeak = yes |
| 453.povray: | basepeak = yes |
| | |
| --- | --- |
| 410.bwaves: | basepeak = yes |
| 416.gamess: | basepeak = yes |
| 434.zeusmp: | basepeak = yes |
| 437.leslie3d: | basepeak = yes |
| 459.GemsFDTD: | basepeak = yes |
| 465.tonto: | basepeak = yes |
| | |
| --- | --- |
| 435.gromacs: | basepeak = yes |
| 436.cactusADM: | basepeak = yes |
| 454.calculix: | basepeak = yes |
| 481.wrf: | basepeak = yes |