SPEC® CFP2006 Result
Copyright 2006-2014 Standard Performance Evaluation Corporation
Sun Microsystems
Sun SPARC Enterprise T5240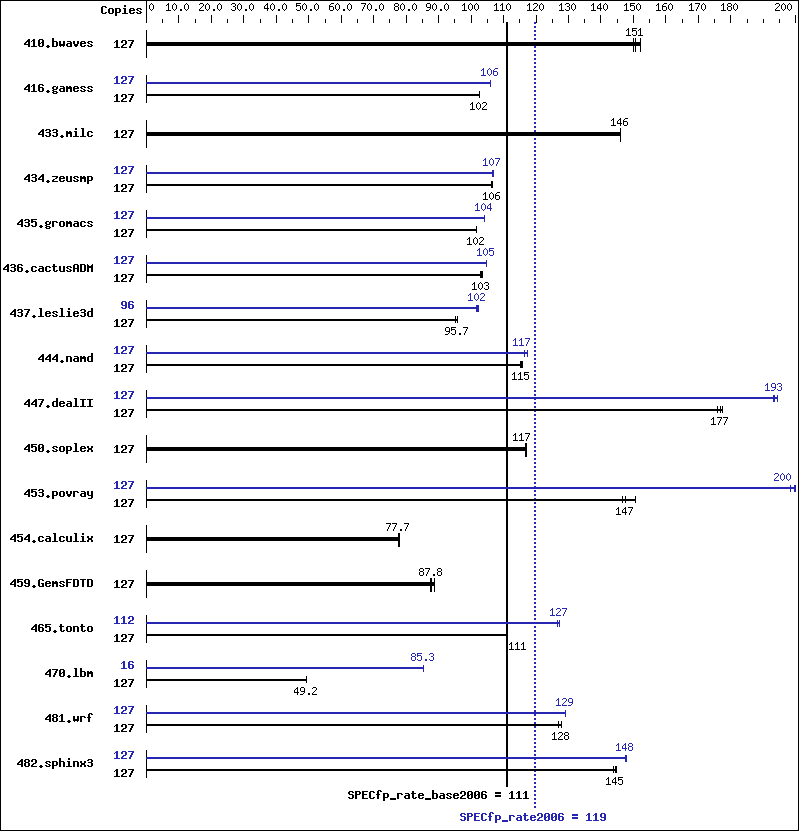 Processes were bound to cores using "submit" and "pbind".
 A processor set was created using
   psrset -c 1-127
 and the runspec process was placed into the set using
   psrset -e 1

 These shell commands request use of local 4MB pages:
      export LD_PRELOAD=madv.so.1:mpss.so.1
      export MPSSHEAP=4MB
      export MPSSSTACK=4MB
      export MADV=access_lwp
 'access_lwp' means that the next light weight
 process to touch the specified address range
 will access it the most heavily.

 ulimit -s 131072 was used to allow the stack to grow
 up to 131072 KB (aka 128 MB).  Note that saying "131072"
 is preferable to "unlimited", because there is a tradeoff
 between space for the stack vs. space for the heap.

 The open file limit was set to 1300 with ulimit -n

 /etc/system parameters
    autoup=600
       Causes pages older than the listed number of seconds to
       be written by fsflush.
    bufhwm=3000
       Memory byte limit for caching I/O buffers
    segmap_percent=1
       Set maximum percent memory for file system cache
    tune_t_fsflushr=10
       Controls how many seconds elapse between runs of the
       page flush daemon, fsflush.
    tsb_rss_factor=128
       Suggests that the the size of the TSB (Translation Storage Buffer)
       may be increased if it is more than 25% (128/512) full.  Doing so
       may reduce TSB traps, at the cost of additional kernel memory.

 The "webconsole" service was turned off using
     svcadm disable webconsole

 The system had 144 GB of swap space.



 This result was measured on a Sun SPARC Enterprise T5240.
 The Sun SPARC Enterprise T5240 and the Fujitsu SPARC
 Enterprise T5240 are electrically equivalent.