SPEC® CFP2006 Result
Copyright 2006-2014 Standard Performance Evaluation Corporation
Bull SAS
NovaScale R480 E1
(2.66 GHz, Intel Xeon X7460)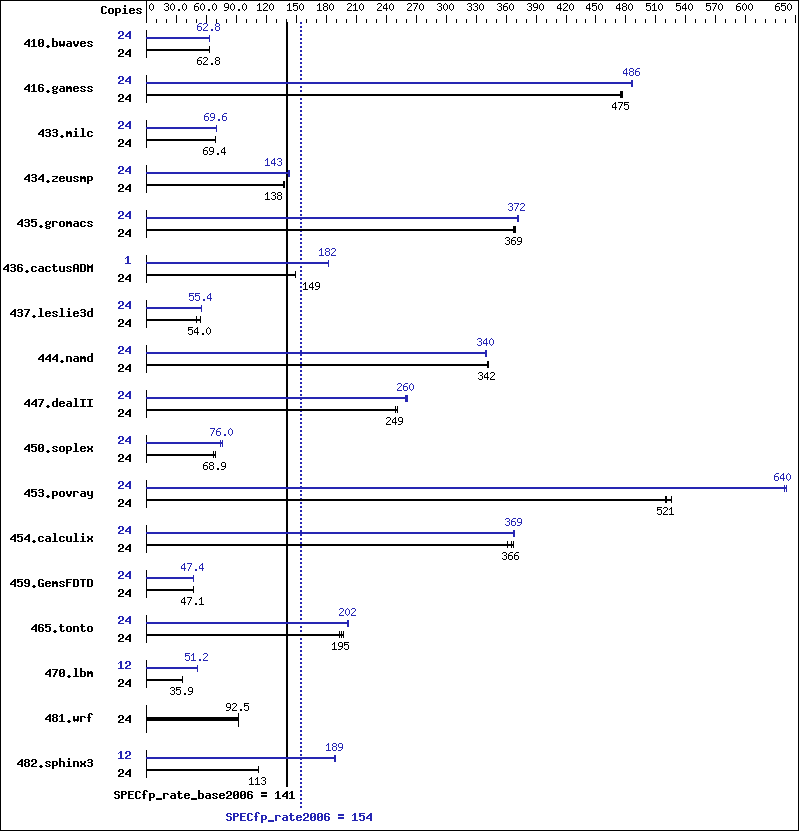 Hardware
CPU Name:
Intel Xeon X7460
CPU Characteristics:
1066 MHz system bus
CPU MHz:
2667
FPU:
Integrated
CPU(s) enabled:
24 cores, 4 chips, 6 cores/chip
CPU(s) orderable:
1,2,3,4 chips
Primary Cache:
32 KB I + 32 KB D on chip per core
Secondary Cache:
9 MB I+D on chip per chip, 3 MB shared / 2 cores
L3 Cache:
16 MB I+D on chip per chip
Other Cache:
None
Memory:
32 GB (16x2 GB PC2-5300F, 2 rank, CL5-5-5, ECC)
Disk Subsystem:
1x73.2 GB SAS, 15000 RPM
Other Hardware:
None

The config file option 'submit' was used.
 taskset was used to bind processes to cores except
 for 436.cactusADM peak
 For peak modules using 1/2 the number of available cores, copies
 were each assigned to a single L2 cache using mysubmit.pl script.
 See the flags description file for mysubmit.pl details.


 'ulimit -s unlimited' was used to set the stacksize to unlimited prior to run
 OMP_NUM_THREADS set to number of cores
 KMP_AFFINITY set to "physical,0"
 KMP_STACKSIZE set to 64M


Bios settings:
Hardware Prefetcher:             Disabled
Adjacent Cache Line Prefetch:    Disabled
FSB High Bandwidth Optimization:  Enabled


 The NEC Express5800/R140a-4(Intel Xeon X7460) and
 the Bull NovaScale R480 E1(Intel Xeon X7460, 2.66 GHz) models are electronically equivalent.
 The results have been measured on a NEC Express5800/R140a-4(Intel Xeon X7460) model.