SPEC® CINT2006 Result
Copyright 2006-2014 Standard Performance Evaluation Corporation
Oracle Corporation
SPARC T3-1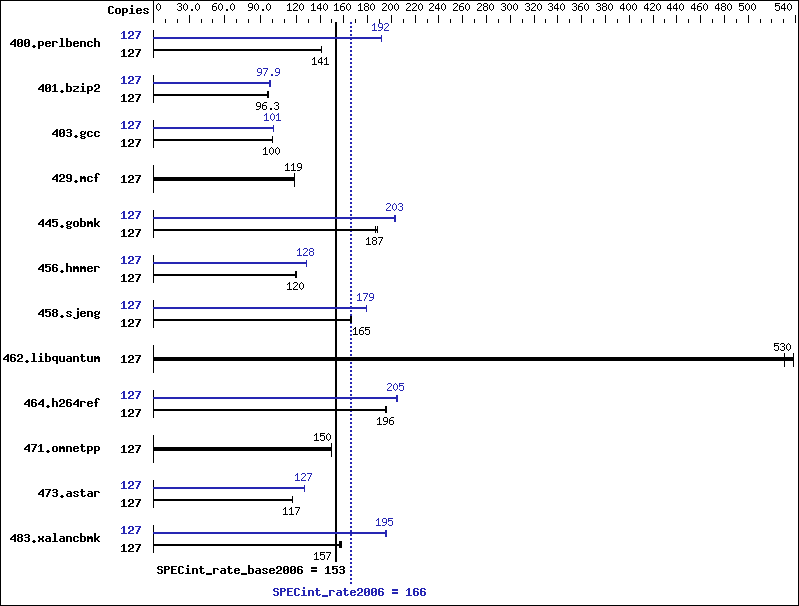 Processes were bound to cores using "submit" and "pbind".  The config
file option 'submit' was used in order to accomplish this.



ulimit -s 131072 was used to limit the space
consumed by the stack (and therefore make more
space available to the heap).

 /etc/system parameters
    autoup=600
       Causes pages older than the listed number of seconds to
       be written by fsflush.
    tune_t_fsflushr=10
       Controls how many seconds elapse between runs of the
       page flush daemon, fsflush.
    lpg_alloc_prefer=1
       Indicates that extra effort should be taken to ensure
       that pages are created in the nearby lgroup (NUMA location).
    tsb_rss_factor=128
       Suggests that the the size of the TSB (Translation
       Storage Buffer) may be increased if it is more than
       25% (128/512) full.  Doing so may reduce TSB traps,
       at the cost of additional kernel memory.
    zfs:zfs_arc_max=0x10000000
    zfs:zfs_arc_min=0x10000000
       Limits the consumption of memory by the zfs file system
       cache to 256 MB.  (The arc_max sets the maximum cache
       size; arc_min sets the minimum.)
    zfs:zfs_prefetch_disable = 1
       Indicates that prefetching is not desired.  This setting
       may be desirable when the file system cache is small.
 USB devices were turned off with ILOM command
    set /SYS/MB/USB component_state=disabled
 The "webconsole" service was turned off using
    svcadm disable webconsole
 The system had 296 GB of swap space.