SPEC® CINT2006 Result
Copyright 2006-2014 Standard Performance Evaluation Corporation
Supermicro
Supermicro A+ Server AS-2022TG-HIBQRF,
AMD Opteron 6180 SE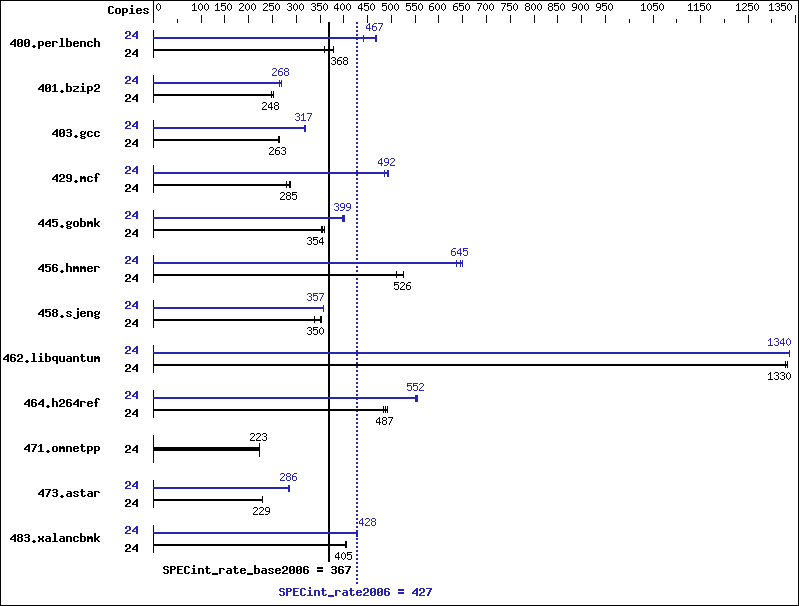 The config file option 'submit' was used.
'numactl' was used to bind copies to the cores.
See the configuration file for details.


'ulimit -s unlimited' was used to set environment stack size
'ulimit -l 2097152' was used to set environment locked pages in memory limit

Set vm/nr_hugepages=10800 in /etc/sysctl.conf
mount -t hugetlbfs nodev /mnt/hugepages


Fan Speed set to Full Speed in BIOS Setup.
The system uses a Supermicro H8DGT-HIBQF motherboard.


Environment variables set by runspec before the start of the run:
HUGETLB_LIMIT = "450"
LD_LIBRARY_PATH = "/usr/cpu2006/amd1002-rate-libs-revC/64:/usr/cpu2006/amd1002-rate-libs-revC/32"

The x86 Open64 Compiler Suite is only available from (and supported by) AMD at
http://developer.amd.com/cpu/open64