SPEC® CINT2006 Result
Copyright 2006-2014 Standard Performance Evaluation Corporation
ScaleMP
vSMP Foundation (Intel Xeon X5650, 2.66 GHz)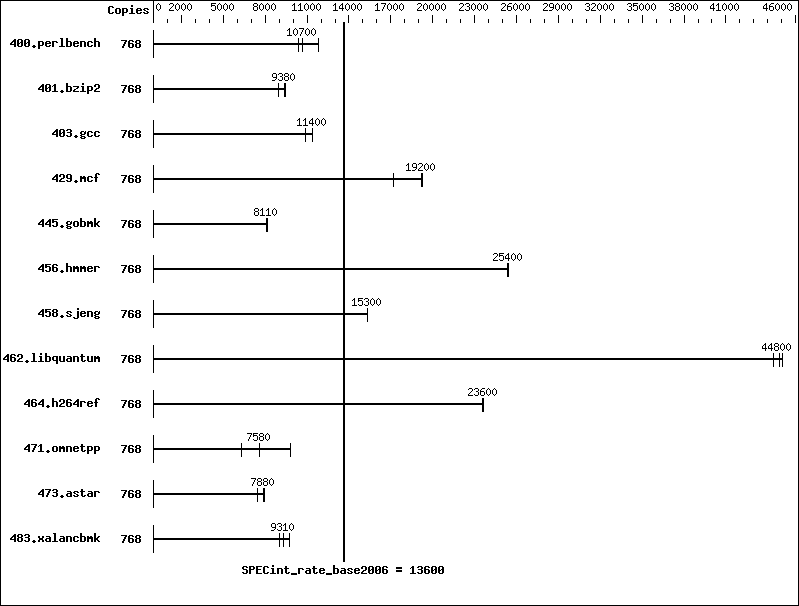 The config file option 'submit' was used.


ramfs file-system setup:
   mkdir /ramfs
   mount /dev/ram -t ramfs /ramfs -o noatime


  BIOS Settings
      Hyper-Threading Technology set to ON. Disabled by vSMP Foundation.
  ScaleMP
      vSMP Foundation: 3.5.175.15, released May. 30, 2011
      See http://www.scalemp.com
  Hardware Details:
     System was aggregated using 64 X HP BL490c G6 blades.
     The servers were connected with Melanox InfiniBand QDR and a
     QDR switch.
  CPU Characteristics: Intel Turbo Boost Technology not enabled:
     As the prerequisites listed below for enablement of this
     technology did not exist.
     - Hardware: Enabling Turbo Boost Technology require BIOS setting.
     - Software: OS needs to be ACPI-aware and set P0 power state.