SPEC® CINT2006 Result
Copyright 2006-2014 Standard Performance Evaluation Corporation
IBM Corporation
IBM Flex System p260 (4.1 GHz, 16 core, SLES, GCC)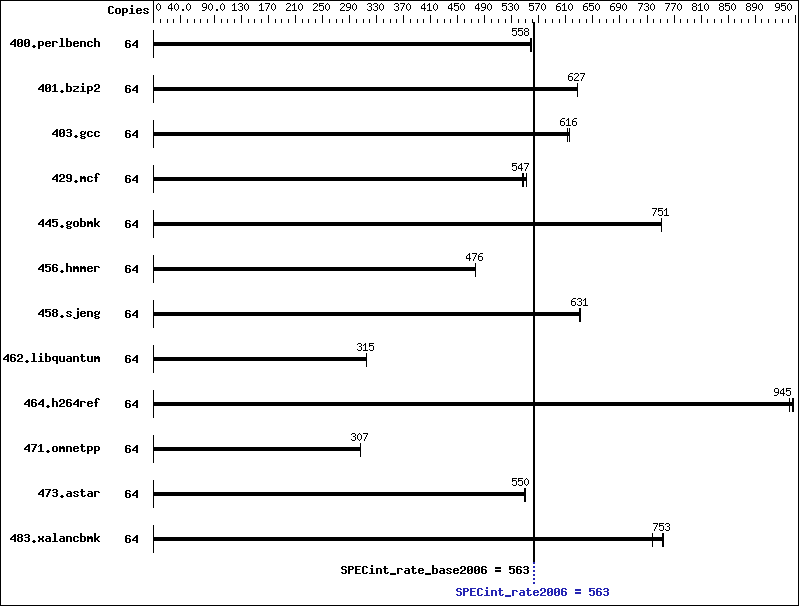 The config file option 'submit' was used
  to assign benchmark copy to specific kernel thread using
  the "numactl" command (see flags file for details).


 ulimit -s (stack) set to 1048576.
 Large pages reserved as follows by root user:
 echo 4224 > /proc/sys/vm/nr_hugepages

 The following environment varibles were set before the runspec command:
   export HUGETLB_VERBOSE=0
   export HUGETLB_MORECORE=yes


  This Compute Node is housed in an "IBM Flex System Enterprise Chassis"

| | |
| --- | --- |
| 400.perlbench: | basepeak = yes |
| 401.bzip2: | basepeak = yes |
| 403.gcc: | basepeak = yes |
| 429.mcf: | basepeak = yes |
| 445.gobmk: | basepeak = yes |
| 456.hmmer: | basepeak = yes |
| 458.sjeng: | basepeak = yes |
| 462.libquantum: | basepeak = yes |
| 464.h264ref: | basepeak = yes |
| | |
| --- | --- |
| 471.omnetpp: | basepeak = yes |
| 473.astar: | basepeak = yes |
| 483.xalancbmk: | basepeak = yes |