SPEC® CFP2006 Result
Copyright 2006-2014 Standard Performance Evaluation Corporation
MSI (Test Sponsor: Advanced Micro Devices)
MSI MS0231,
AMD Opteron 3365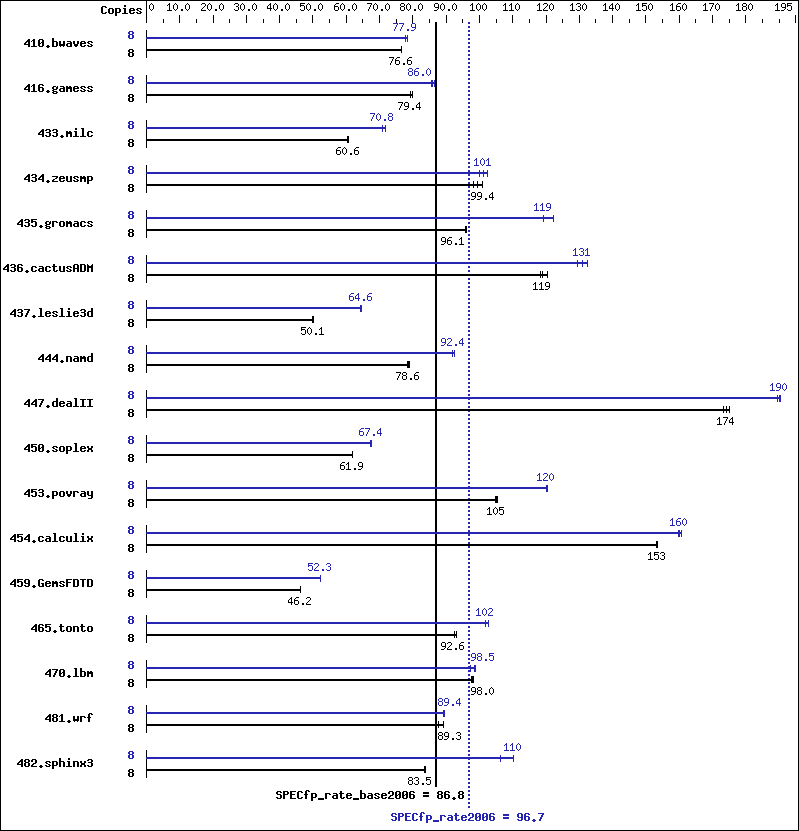 The config file option 'submit' was used.
'numactl' was used to bind copies to the cores.
See the configuration file for details.


'ulimit -s unlimited' was used to set environment stack size
'ulimit -l 2097152'  was used to set environment locked pages in memory limit

Set transparent_hugepage=never as a boot parameter in /boot/grub/menu.lst

Set vm/nr_hugepages=3840 in /etc/sysctl.conf
mount -t hugetlbfs nodev /mnt/hugepages


A standard ATX case is required, along with a 350W
(minimum) ATX power supply [8-pin (+12V) and 24-pin are required].
As Tested, the system used an Antec Sonata II ATX case,
an Antec 750W power supply, Lite-On SATA DVD-ROM Drive,
a Western Digital 500GB SATA hard disk (Part: WD5000ABPS)
and a retail box CPU heatsink and fan assembly.


Environment variables set by runspec before the start of the run:
HUGETLB_LIMIT = "480"
LD_LIBRARY_PATH = "/root/work/cpu2006v1.2/amd1206-rate-libs-revA/32:/root/work/cpu2006v1.2/amd1206-rate-libs-revA/64"

The x86 Open64 Compiler Suite is only available from (and supported by) AMD at
http://developer.amd.com/cpu/open64

Binaries were compiled on a system with 2x AMD Opteron 6386SE chips + 128GB Memory using RHEL 6.3