SPEC® CINT2006 Result
Copyright 2006-2014 Standard Performance Evaluation Corporation
IBM Corporation
IBM PowerLinux 7R4 (4.0 GHz, 32 core, RHEL,
GCC)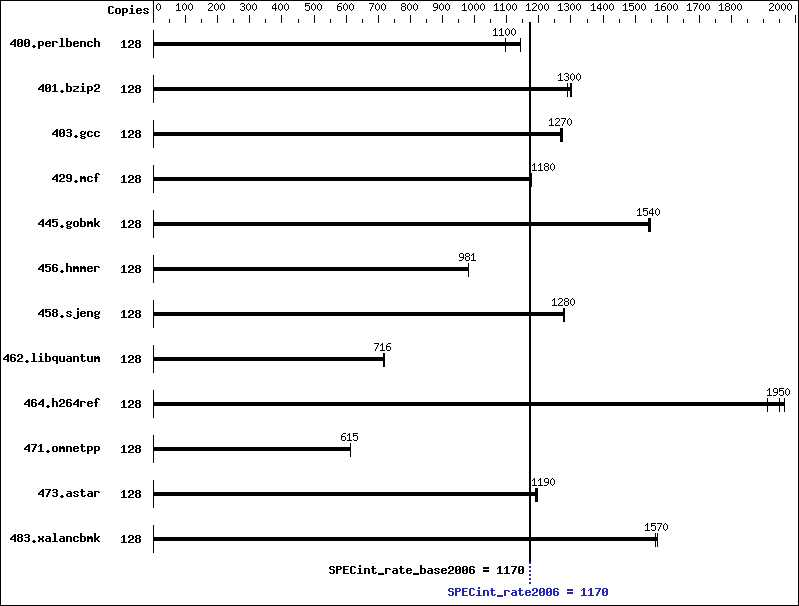 The config file option 'submit' was used
   to assign benchmark copy to specific kernel thread using
   the "numactl" command (see flags file for details).


  ulimit -s (stack) set to 1048576.

  Large pages reserved as follows by root user:
  echo 8448 > /proc/sys/vm/nr_hugepages

  The Mathematical Acceleration Subsystem libraries
  are shipped with IBM XL C/C++ version 12.1 and
  IBM XL Fortran version 14.1 compiler products.



Environment variables set by runspec before the start of the run:
HUGETLB_ELFMAP = "RW"
HUGETLB_MORECORE = "yes"
HUGETLB_VERBOSE = "0"
TCMALLOC_MEMFS_MALLOC_PATH = "/libhugetlbfs"
XLFRTEOPTS = "intrinthds=1"


| | |
| --- | --- |
| 400.perlbench: | basepeak = yes |
| 401.bzip2: | basepeak = yes |
| 403.gcc: | basepeak = yes |
| 429.mcf: | basepeak = yes |
| 445.gobmk: | basepeak = yes |
| 456.hmmer: | basepeak = yes |
| 458.sjeng: | basepeak = yes |
| 462.libquantum: | basepeak = yes |
| 464.h264ref: | basepeak = yes |
| | |
| --- | --- |
| 471.omnetpp: | basepeak = yes |
| 473.astar: | basepeak = yes |
| 483.xalancbmk: | basepeak = yes |