SPEC® CINT2006 Result
Copyright 2006-2014 Standard Performance Evaluation Corporation
Oracle Corporation
Sun Fire X4-2 (Intel Xeon E5-2697 v2 2.7GHz)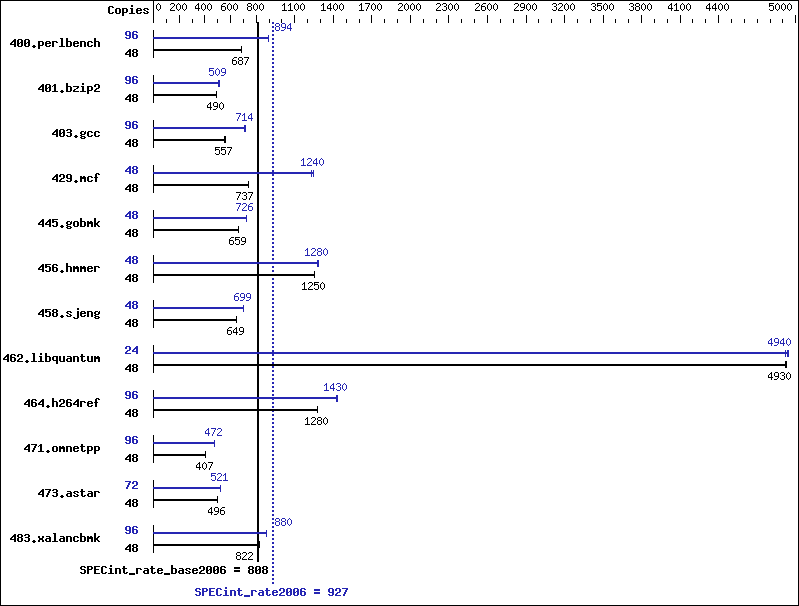 The config file option 'submit' was used to bind processes to CPU threads with pbind(1)


 ulimit -s unlimited  (shell): increases stack
 /etc/system parameters
    autoup=1000
    tune_t_fsflushr=10

 gzip compression set using "zfs set compression=gzip <zfs-filesystem>"


 Default BIOS Settings were used.

 Sysinfo program /export/home/cpu2006v1.2/Docs/sysinfo
 : 6775  2011-08-16 #f7622badcf24e01c368b1db4377c
 running on bur398-85 Sun Sep  1 16:52:31 2013

 This section contains SUT (System Under Test) info as seen by
 some common utilities.  To remove or add to this section, see:
   http://www.spec.org/cpu2006/Docs/config.html#sysinfo


 From /usr/sbin/psrinfo -pv
  Intel(r) Xeon(r) CPU E5-2697 v2 @ 2.70GHz
  x86 (GenuineIntel 306E4 family 6 model 62 step 4 clock 2693 MHz)

 /usr/sbin/psrinfo -p:   2 chips
 /usr/sbin/psrinfo -pv | grep "core has" | wc -l:  24 cores
 /usr/sbin/psrinfo | wc -l: 48 threads

 /usr/sbin/prtconf | grep "Memory size:": 262087 Megabytes

 /etc/release:
                                Oracle Solaris 11.1 X86
 uname -a:
 SunOS bur398-85 5.11 11.1 i86pc i386 i86pc

 disk: df -h
 Filesystem             Size   Used  Available Capacity  Mounted on
 rpool/export/home      547G    50G       419G    11%    /export/home

 (End of data from sysinfo program)


Environment variables set by runspec before the start of the run:
OMP_NUM_THREADS = "1"