SPEC® CFP2006 Result
Copyright 2006-2014 Standard Performance Evaluation Corporation
Dell Inc.
PowerEdge R920 (Intel Xeon E7-2850 v2, 2.30 GHz)
SPEC has determined that this result is not in compliance with the SPEC
CPU2006 run and reporting rules. Specifically, the submitter has notified
SPEC that the system was run with a BIOS which included a version of the
Intel MRC (Memory Reference Code) that is not supported by Dell or Intel.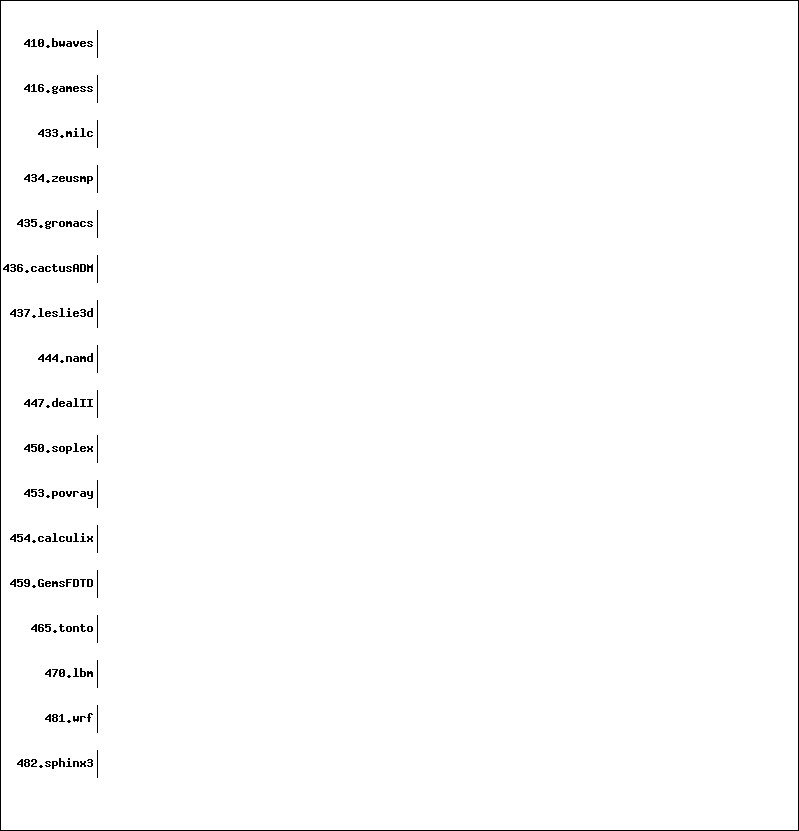 Stack size set to unlimited using "ulimit -s unlimited"


BIOS settings:
Virtualization Technology disabled
Execute Disable disabled
System Profile set to Custom
C1E enabled
C States enabled
 Sysinfo program /root/cpu2006-1.2/config/sysinfo.rev6818
 $Rev: 6818 $ $Date:: 2012-07-17 #$ e86d102572650a6e4d596a3cee98f191
 running on localhost.localdomain Mon Feb 17 10:25:58 2014

 This section contains SUT (System Under Test) info as seen by
 some common utilities.  To remove or add to this section, see:
   http://www.spec.org/cpu2006/Docs/config.html#sysinfo

 From /proc/cpuinfo
    model name : Intel(R) Xeon(R) CPU E7-2850 v2 @ 2.30GHz
       2 "physical id"s (chips)
       48 "processors"
    cores, siblings (Caution: counting these is hw and system dependent.  The
    following excerpts from /proc/cpuinfo might not be reliable.  Use with
    caution.)
       cpu cores : 12
       siblings  : 24
       physical 0: cores 0 1 2 3 4 5 8 9 10 11 12 13
       physical 1: cores 0 1 2 3 4 5 8 9 10 11 12 13
    cache size : 24576 KB

 From /proc/meminfo
    MemTotal:       529354152 kB
    HugePages_Total:       0
    Hugepagesize:       2048 kB

 /usr/bin/lsb_release -d
    Red Hat Enterprise Linux Server release 6.5 (Santiago)

 From /etc/*release* /etc/*version*
    redhat-release: Red Hat Enterprise Linux Server release 6.5 (Santiago)
    system-release: Red Hat Enterprise Linux Server release 6.5 (Santiago)
    system-release-cpe: cpe:/o:redhat:enterprise_linux:6server:ga:server

 uname -a:
    Linux localhost.localdomain 2.6.32-431.el6.x86_64 #1 SMP Sun Nov 10 22:19:54
    EST 2013 x86_64 x86_64 x86_64 GNU/Linux

 run-level 3 Feb 17 10:25

 SPEC is set to: /root/cpu2006-1.2
    Filesystem     Type  Size  Used Avail Use% Mounted on
    /dev/sda2      ext4  271G  8.6G  249G   4% /

 Additional information from dmidecode:
   BIOS Dell Inc. 1.0.4 01/27/2014
   Memory:
    32x 00AD04B300AD HMT42GR7AFR4A-PB 16 GB 1333 MHz 2 rank

 (End of data from sysinfo program)


Environment variables set by runspec before the start of the run:
LD_LIBRARY_PATH = "/root/cpu2006-1.2/libs/32:/root/cpu2006-1.2/libs/64:/root/cpu2006-1.2/sh"
OMP_NUM_THREADS = "24"

 Binaries compiled on a system with 1x Core i7-860 CPU + 8GB
 memory using RedHat EL 6.4
 Transparent Huge Pages disabled with:
 echo never  > /sys/kernel/mm/redhat_transparent_hugepage/enabled
 Filesystem page cache cleared with:
 echo 1>       /proc/sys/vm/drop_caches

Same as Base Portability Flags