SPEC® CFP2006 Result
Copyright 2006-2015 Standard Performance Evaluation Corporation
ACTION S.A.
ACTINA SOLAR E 110 S6 (Intel Xeon E3-1231 v3, 3.40
GHz)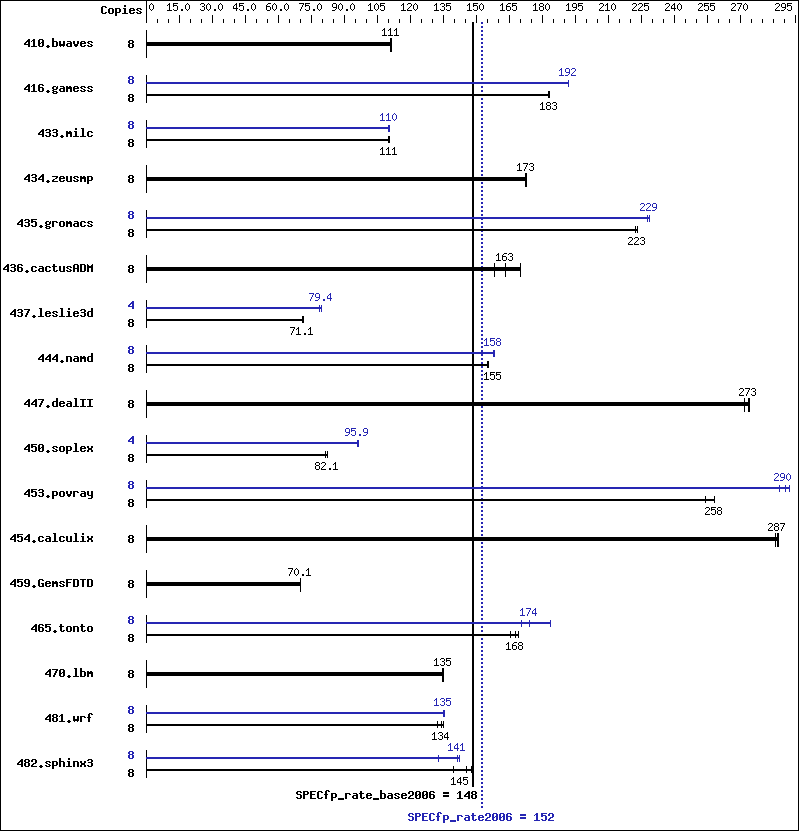 The numactl mechanism was used to bind copies to processors. The config file option 'submit'
 was used to generate numactl commands to bind each copy to a specific processor.
 For details, please see the config file.


 Stack size set to unlimited using "ulimit -s unlimited"



 Bios Settings
 Power Technology = Energy Efficient

 BMC Setting
 Fan Mode = Full Speed

 Sysinfo program /cpu2006.1.2/config/sysinfo.rev6818
 $Rev: 6818 $ $Date:: 2012-07-17 #$ e86d102572650a6e4d596a3cee98f191
 running on localhost.localdomain Fri Feb 27 19:06:12 2015

 This section contains SUT (System Under Test) info as seen by
 some common utilities.  To remove or add to this section, see:
   http://www.spec.org/cpu2006/Docs/config.html#sysinfo

 From /proc/cpuinfo
    model name : Intel(R) Xeon(R) CPU E3-1231 v3 @ 3.40GHz
       1 "physical id"s (chips)
       8 "processors"
    cores, siblings (Caution: counting these is hw and system dependent.  The
    following excerpts from /proc/cpuinfo might not be reliable.  Use with
    caution.)
       cpu cores : 4
       siblings  : 8
       physical 0: cores 0 1 2 3
    cache size : 8192 KB

 From /proc/meminfo
    MemTotal:       32742904 kB
    HugePages_Total:       0
    Hugepagesize:       2048 kB

 /usr/bin/lsb_release -d
    Red Hat Enterprise Linux Server release 7.0 (Maipo)

 From /etc/*release* /etc/*version*
    os-release:
       NAME="Red Hat Enterprise Linux Server"
       VERSION="7.0 (Maipo)"
       ID="rhel"
       ID_LIKE="fedora"
       VERSION_ID="7.0"
       PRETTY_NAME="Red Hat Enterprise Linux"
       ANSI_COLOR="0;31"
       CPE_NAME="cpe:/o:redhat:enterprise_linux:7.0:GA:server"
    redhat-release: Red Hat Enterprise Linux Server release 7.0 (Maipo)
    system-release: Red Hat Enterprise Linux Server release 7.0 (Maipo)
    system-release-cpe: cpe:/o:redhat:enterprise_linux:7.0:ga:server

 uname -a:
    Linux localhost.localdomain 3.10.0-123.20.1.el7.x86_64 #3 SMP Wed Feb 4
    14:55:18 CET 2015 x86_64 x86_64 x86_64 GNU/Linux

 run-level 3 Feb 27 10:12

 SPEC is set to: /cpu2006.1.2
    Filesystem     Type  Size  Used Avail Use% Mounted on
    /dev/sda1      ext4  212G   25G  176G  13% /

 Additional information from dmidecode:
   BIOS American Megatrends Inc. 2.0 04/24/2014
   Memory:
    4x   8 GB
    4x 0793 W-MEM1600E38G 8 GB 1600 MHz 2 rank

 (End of data from sysinfo program)


Environment variables set by runspec before the start of the run:
LD_LIBRARY_PATH = "/cpu2006.1.2/libs/32:/cpu2006.1.2/libs/64:/cpu2006.1.2/sh"

 Transparent Huge Pages enabled with:
 echo always > /sys/kernel/mm/redhat_transparent_hugepage/enabled
 Filesystem page cache cleared with:
 echo 1>       /proc/sys/vm/drop_caches
 runspec command invoked through numactl i.e.:
 numactl --interleave=all runspec <etc>
 Binaries compiled on a system with 2x Xeon E5-2650 v3 chips + 256 GB memory
 using RedHat EL 7.0