SPEC® MPIM2007 Result
Copyright 2006-2010 Standard Performance Evaluation Corporation
Gateway
GW2000h-GW170hq (Intel Xeon X5570, 2.93 Ghz)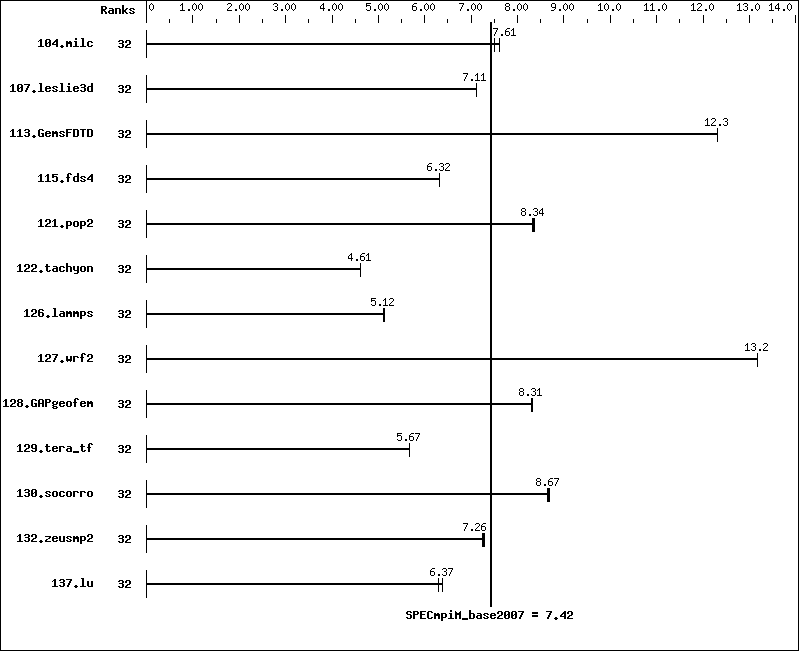 Node Description: Gateway GW2000h
Interconnect Description: Infiniband Switch
Interconnect Description: Ethernet Switch

The config file option 'submit' was used.


 MPI startup command:
   mpirun command was used to start MPI jobs. This command starts
   an independent ring of mpd daemons, launches an MPI job, and shuts
   down the mpd ring upon the job termination.

 BIOS settings:
   Intel Hyper-Threading Technology (SMT): Disabled (default is Enabled)
   Intel Turbo Boost Technology (Turbo)  : Enabled (default is Enabled)

 RAM configuration:
   Compute nodes have 6x4-GB dual rank DDR3-1333 RAM.
   Head node has 4x2GB single rank DDR2-667 RAM.

 Network:
   Head node and all compute nodes are interconnected by 1GB Ethernet and
   QDR Infiniband. Each interconnect type has one single switch.