SPEC® MPIM2007 Result
Copyright 2006-2010 Standard Performance Evaluation Corporation
SGI
SGI Altix ICE 8400EX
(AMD Opteron 6180 SE, 2.5GHz)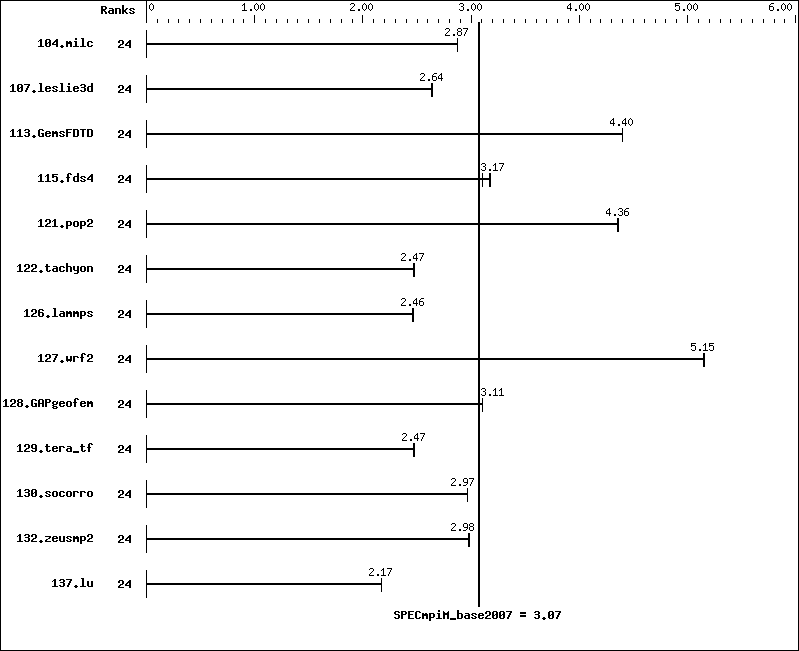 Node Description: SGI Altix ICE 8400EX Compute Node
Node Description: SGI InfiniteStorage 4000
Interconnect Description: InfiniBand (MPI and I/O)

The config file option 'submit' was used.


 Software environment:
   export MPI_REQUEST_MAX=65536
   export MPI_TYPE_MAX=32768
   export MPI_BUFS_THRESHOLD=1
   ulimit -s unlimited

 BIOS settings:
   AMI BIOS version 1.0a

 Job Placement:
   Each MPI job is assigned to a topologically compact set
   of nodes, i.e. the minimal needed number of switches was
   used for each job: 1 switch for up to 192 ranks, 2 switches
   for 384 ranks, 4 switches for 768 ranks, 8 switches for
   1536 ranks and 16 switches for 3072 ranks.