SPEC® MPIL2007 Result
Copyright 2006-2010 Standard Performance Evaluation Corporation
SGI
SGI ICE XA
(Intel Xeon E5-2690 v4, 2.6 GHz)

SPEC has determined that this result was not in compliance with the SPEC
MPI2007 run and reporting rules. Specifically, the submitter reported
that the result used an unsupported version of the Operating System.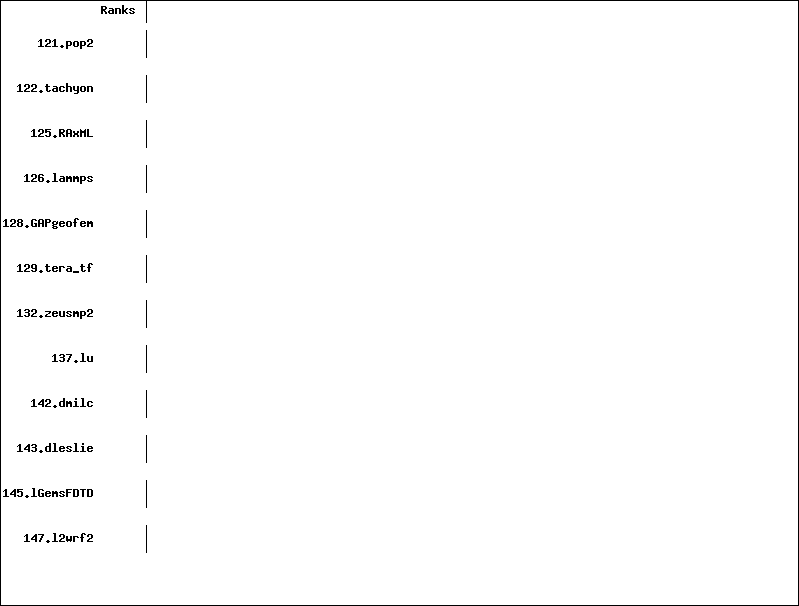 Node Description: SGI ICE XA IP-125 Compute Node
Node Description: SGI MIS Server
Interconnect Description: InfiniBand (MPI and I/O)

The config file option 'submit' was used.



 143.dleslie (base): "integer_overflow" src.alt was used.

 Software environment:
   export MPI_REQUEST_MAX=65536
   export MPI_TYPE_MAX=32768
   export MPI_IB_RAILS=1
   export MPI_CONNECTIONS_THRESHOLD=0
   export MPI_IB_UPGRADE_SENDS=50
   export MPI_IB_IMM_UPGRADE=false
   export MPI_IB_HYPER_LAZY=false
   ulimit -s unlimited

 BIOS settings:
   AMI BIOS version HAAE6125
   Hyper-Threading Technology disabled
   Transparent HugePages enabled
   Intel Turbo Boost Technology enabled (default)
   Intel Turbo Boost Technology activated with
     modprobe acpi_cpufreq
     cpupower frequency-set -u 2601MHz -d 2601MHz -g performance

 Job Placement:
   There were 8 switches used with a topologically compact
   configuration.

 Additional notes regarding interconnect:
   The Infiniband network consists of two independent planes,
   with half the switches in the system allocated to each plane.
   I/O traffic is restricted to one plane, while MPI traffic
   uses the other.