SPEC® MPIL2007 Result
Copyright 2006-2010 Standard Performance Evaluation Corporation
SGI
SGI ICE XA
(Intel Xeon E5-2690 v4, 2.6 GHz)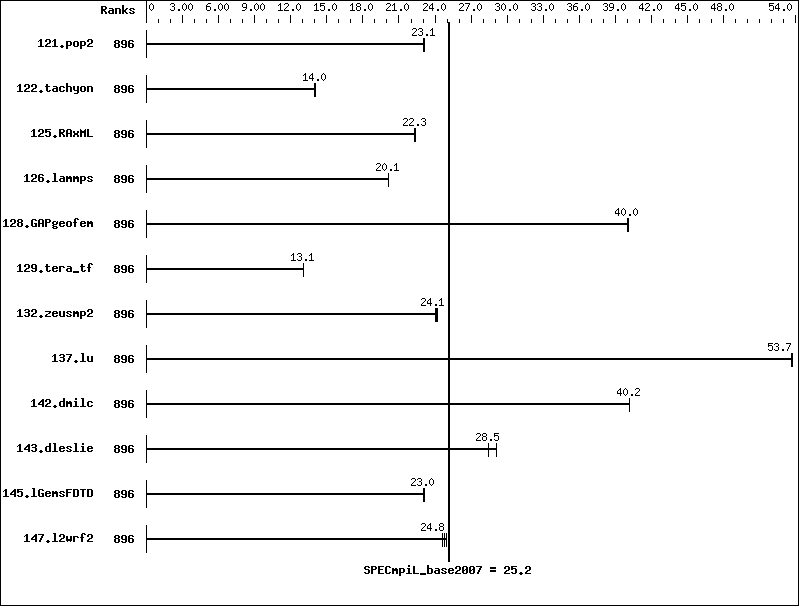 Node Description: SGI ICE XA IP-125 CS
Node Description: SGI MIS Server
Interconnect Description: InfiniBand (MPI and I/O)

The config file option 'submit' was used.


Software environment:
  export MPI_REQUEST_MAX=65536
  export MPI_TYPE_MAX=32768
  export MPI_IB_RAILS=2
  export MPI_IB_UPGRADE_SENDS=50
  export MPI_IB_IMM_UPGRADE=false
  export MPI_IB_DCIS=2
  export MPI_CONNECTIONS_THRESHOLD=0
  export MPI_IB_MTU=4096
  ulimit -s unlimited
BIOS settings:
  AMI BIOS version HA012036
  Hyper-Threading Technology enabled
  Intel Turbo Boost Technology enabled (default)
  Transparent Hugepages Enabled
Job Placement:
  Each MPI job was assigned to a topologically compact set
  of nodes with 28 ranks per socket.
Additional notes regarding interconnect:
  The Infiniband network consists of two independent planes,
  with half the switches in the system allocated to each plane.
  I/O traffic is restricted to one plane, while MPI traffic can
  use both planes.