SPEC® OMPG2012 Result
Copyright 2012-2014 Standard Performance Evaluation Corporation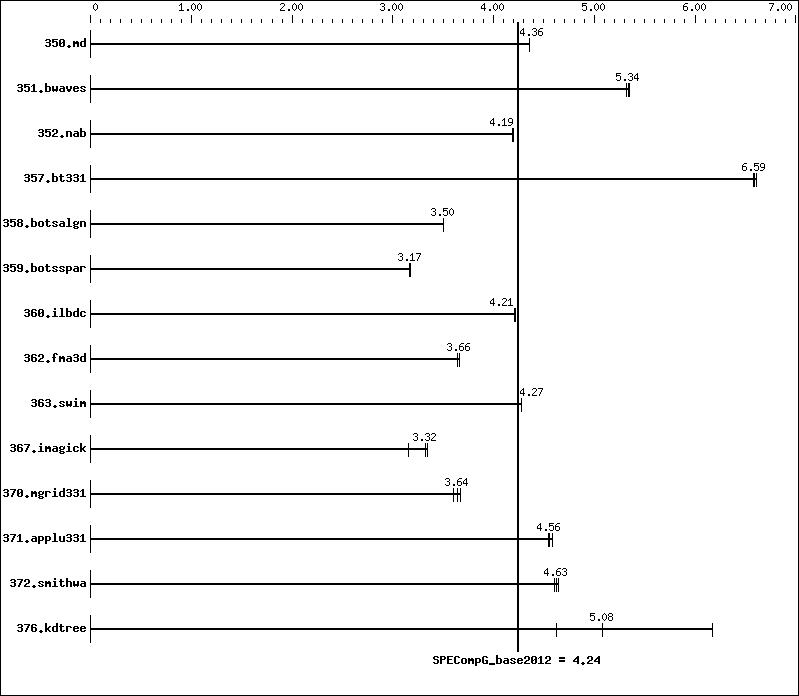 Sysinfo program /scratch/cparrott/OMP2012_v1.0/Docs/sysinfo
 $Rev: 395 $ $Date:: 2012-07-25 #$ 8f8c0fe9e19c658963a1e67685e50647
 running on piledriver Sun Mar  3 00:42:57 2013

 This section contains SUT (System Under Test) info as seen by
 some common utilities.  To remove or add to this section, see:
   http://www.spec.org/omp2012/Docs/config.html#sysinfo

 From /proc/cpuinfo
    model name : AMD Opteron(tm) Processor 6386 SE
       2 "physical id"s (chips)
       32 "processors"
    cores, siblings (Caution: counting these is hw and system dependent.  The
    following excerpts from /proc/cpuinfo might not be reliable.  Use with
    caution.)
       cpu cores : 8
       siblings  : 16
       physical 0: cores 0 1 2 3 4 5 6 7
       physical 1: cores 0 1 2 3 4 5 6 7
    cache size : 2048 KB

 From /proc/meminfo
    MemTotal:       66087508 kB
    HugePages_Total:       0
    Hugepagesize:       2048 kB

 /usr/bin/lsb_release -d
    Red Hat Enterprise Linux Server release 6.2 (Santiago)

 From /etc/*release* /etc/*version*
    redhat-release: Red Hat Enterprise Linux Server release 6.2 (Santiago)
    system-release: Red Hat Enterprise Linux Server release 6.2 (Santiago)
    system-release-cpe: cpe:/o:redhat:enterprise_linux:6server:ga:server

 uname -a:
    Linux piledriver 2.6.32-220.el6.x86_64 #1 SMP Wed Nov 9 08:03:13 EST 2011
    x86_64 x86_64 x86_64 GNU/Linux

 run-level 3 Mar 1 15:09

 SPEC is set to: /scratch/cparrott/OMP2012_v1.0
    Filesystem    Type    Size  Used Avail Use% Mounted on
    filer01.pgi.net:/vol/vol1/scratch
                   nfs    727G  136G  591G  19% /proj/scratch

 Additional information from dmidecode:

 (End of data from sysinfo program)



    Software Environment:
        export MP_BIND=yes
        export MP_SPIN=1
        ulimit -s unlimited

    BIOS Settings:
        AMI BIOS 08/31/2012
        Performance defaults loaded
Definition of environment variables:
MP_BIND
You can set MP_BIND to yes or y to bind processes or threads executing in a
parallel region to physical processor. Set it to no or n to disable such
binding. The default is to not bind processes to processors. This variable
is an execution-time environment variable interpreted by the PGI runtime
support libraries. It does not affect the behavior of the PGI compilers
in any way.
MP_SPIN
When a thread executing in a parallel region enters a barrier, it spins on a
semaphore. You can use MP_SPIN to specify the number of times it checks the
semaphore before calling sched_yield() (on Linux or MAC OS X) or _sleep()
(on Windows). These calls cause the thread to be re-scheduled, allowing
other processes to run. The default value is 1000000.