Target Load
Actual Load
ssj_ops
Target
Actual
Calibration 1
918,101
Calibration 2
924,501
Calibration 3
918,424
ssj_ops@calibrated=921,462
100%
99.6%
921,462
917,489
90%
90.1%
829,316
829,799
80%
79.8%
737,170
735,393
70%
69.8%
645,024
643,589
60%
59.9%
552,877
551,610
50%
49.8%
460,731
459,257
40%
39.9%
368,585
367,712
30%
30.1%
276,439
277,183
20%
20.1%
184,292
184,920
10%
10.0%
92,146
92,292
Active Idle
0
0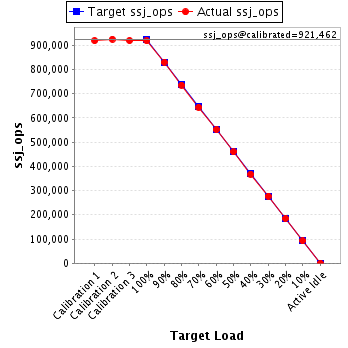 Dell Active Power Controller selected in BIOS
Turbo Boost Was disabled in BIOS
Hardware Prefetcher was disabled in BIOS
Adjacent Cache Line Prefetch was disabled in BIOS.
L1 Data Prefetcher was disabled in BIOS
Data Reuse Optimization was disabled in BIOS
Memory Frequency was set to 1066MHz in BIOS
QPI Frequency was set to 4.800 GT/s in BIOS
Demand Scrubbing was disabled in BIOS
Each JVM instance was affinitized to a socket.
Using the local security settings console, "lock pages in memory" was enabled for the user running the benchmark.
OS Configuration :

Power Option - Power Saver
Turn Off Hard Disk - 1 Minute
Turn Off Display - 1 Minute

SPECpower_ssj.props input.load_level.number_warehouses set to 24 due to known inconsistency in processor reporting with the version of Java used.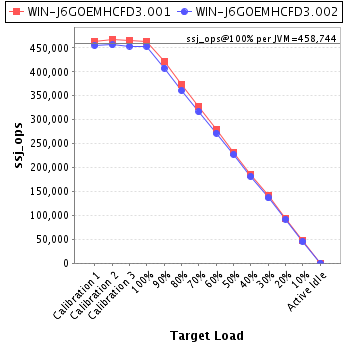 JVM 'WIN-J6GOEMHCFD3.001' Scores:
Target Load
Actual Load
ssj_ops
Target
Actual
Calibration 1
463,032
Calibration 2
468,222
Calibration 3
464,605
ssj_ops@calibrated=466,414
100%
99.6%
466,414
464,345
90%
90.5%
419,772
421,947
80%
80.3%
373,131
374,402
70%
70.1%
326,489
326,997
60%
60.0%
279,848
279,699
50%
49.7%
233,207
231,732
40%
40.0%
186,565
186,371
30%
30.2%
139,924
140,634
20%
19.9%
93,283
92,796
10%
10.0%
46,641
46,795
Active Idle
0
0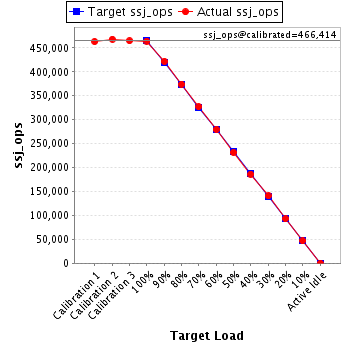 JVM 'WIN-J6GOEMHCFD3.002' Scores:
Target Load
Actual Load
ssj_ops
Target
Actual
Calibration 1
455,069
Calibration 2
456,279
Calibration 3
453,819
ssj_ops@calibrated=455,049
100%
99.6%
455,049
453,144
90%
89.6%
409,544
407,853
80%
79.3%
364,039
360,990
70%
69.6%
318,534
316,592
60%
59.8%
273,029
271,911
50%
50.0%
227,524
227,526
40%
39.9%
182,020
181,341
30%
30.0%
136,515
136,549
20%
20.2%
91,010
92,123
10%
10.0%
45,505
45,497
Active Idle
0
0