SPEC® CFP2006 Result
Copyright 2006-2014 Standard Performance Evaluation Corporation
NEC Corporation
Express5800/120Rg-1
(Intel Xeon processor X5355)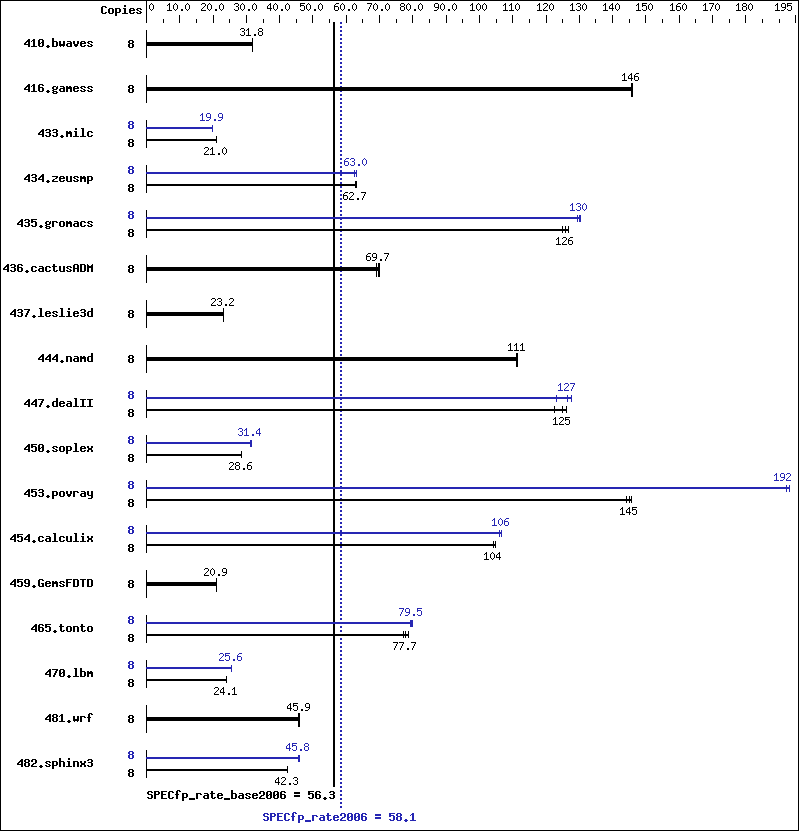 Hardware
CPU Name:
Intel Xeon X5355
CPU Characteristics:
2.66 GHz, 2x4 MB L2 shared, 1333 MHz bus
CPU MHz:
2666
FPU:
Integrated
CPU(s) enabled:
8 cores, 2 chips, 4 cores/chip
CPU(s) orderable:
1,2 chips
Primary Cache:
32 KB I + 32 KB D on chip per core
Secondary Cache:
8 MB I+D on chip per chip, 4 MB shared / 2 cores
L3 Cache:
None
Other Cache:
None
Memory:
16 GB (8x2 GB DDR2 5300F, 2 rank, CL5-5-5, ECC)
Disk Subsystem:
1x73.2 GB SAS, 15000RPM
Other Hardware:
None

 'ulimit -s unlimited' was used to set the stacksize to unlimited prior to run
 '/usr/bin/taskset' used to bind processes to CPUs



 The system bus runs at 1333 MHz
 All binaries were built with 64-bit Intel compiler except:
 433.milc, 434.zeusmp, 450.soplex, 470.lbm and 482.sphinx3 in peak were built with
 32-bit Intel compiler by changing the path for include and library files.

 The Express5800/120Rg-1 and the Express5800/120Ri-2 models are
 electronically equivalent.
 The results have been measured on a Express5800/120Ri-2 model.

| | |
| --- | --- |
| 444.namd: | basepeak = yes |
| 447.dealII: | -prof_gen(pass 1) -prof_use(pass 2) -fast |
| 450.soplex: | Same as 447.dealII |
| 453.povray: | Same as 447.dealII |
| | |
| --- | --- |
| 410.bwaves: | basepeak = yes |
| 416.gamess: | basepeak = yes |
| 434.zeusmp: | -fast |
| 437.leslie3d: | basepeak = yes |
| 459.GemsFDTD: | basepeak = yes |
| 465.tonto: | -prof_gen(pass 1) -prof_use(pass 2) -fast |
| | |
| --- | --- |
| 435.gromacs: | -prof_gen(pass 1) -prof_use(pass 2) -fast |
| 436.cactusADM: | basepeak = yes |
| 454.calculix: | Same as 435.gromacs |
| 481.wrf: | basepeak = yes |