SPEC® CFP2006 Result
Copyright 2006-2014 Standard Performance Evaluation Corporation
ScaleMP
vSMP Foundation with PowerEdge M610
(Intel Xeon X5570, 2.93 GHz)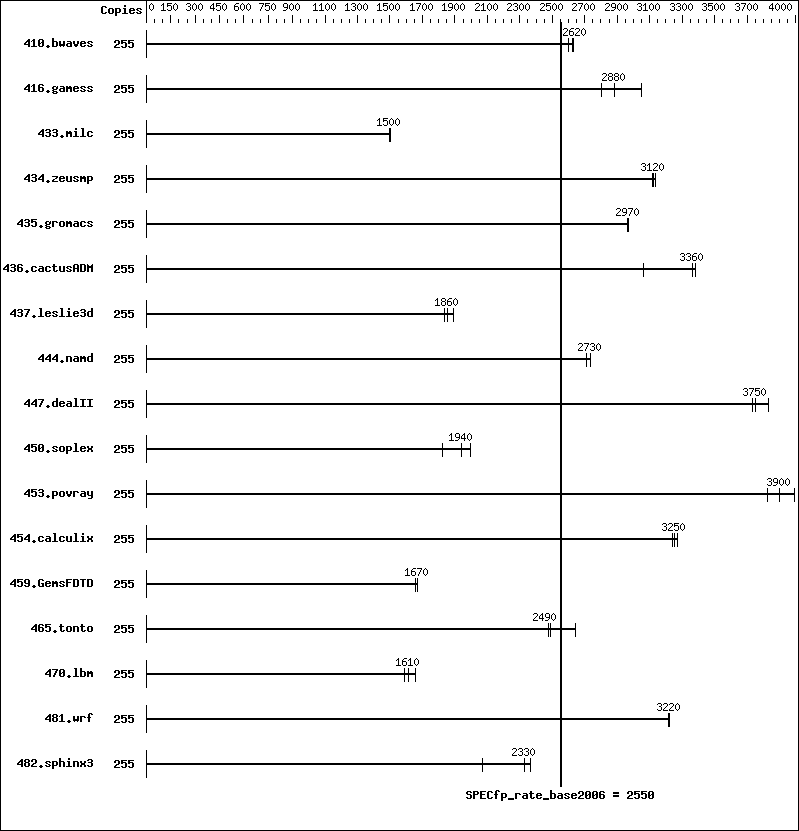 Hardware
CPU Name:
Intel Xeon X5570
CPU Characteristics:
Intel Turbo Boost Technology is not-enabled
CPU MHz:
2933
FPU:
Integrated
CPU(s) enabled:
128 cores, 32 chips, 4 cores/chip, 2 threads/core
CPU(s) orderable:
8,16,24,32,40,48,56,64,96,128 chips
Primary Cache:
32 KB I + 32 KB D on chip per core
Secondary Cache:
256 KB I+D on chip per core
L3 Cache:
8 MB I+D on chip per chip
Other Cache:
92 GB I+D off chip per system
Memory:
768 GB (16 x 2 x 6 x 4 GB DDR3-1066R, ECC, CL9)
Disk Subsystem:
16 x 160 GB SATA, 7200 RPM
Other Hardware:
None

The config file option 'submit' was used.
   numactl was used to bind copies to the cores


  ScaleMP
      vSMP Foundation: 2.0.65.35
  Other Cache:
     ScaleMP vSMP Foundation manages cache coherency between the
     InfiniBand-connected systems via multiple concurrent memory
     coherency mechanisms, on a per-block basis, based on
     real-time memory activity access patterns.
     This mechanism reserves 92 GB of the main memory across all
     boards (distributed), which is used as a 4th level cache.
  Hardware Details:
     System was aggregated using 16 X Dell PowerEdge M610.
     The servers were connected with Melanox InfiniBand QDR and a
     QDR switch.
  CPU Characteristics: Intel Turbo Boost Technology not-enabled:
     As the prerequisites listed below for enablement of this
     technology did not exist.
     The prerequisites for Turbo Boost Technology are:
     - Hardware: Enabling Turbo Boost Technology require BIOS setting.
     - Software: OS needs to be ACPI-aware and set P0 power state.