Performance
Power
Performance to Power Ratio
Target Load
Actual Load
ssj_ops
Average Active Power (W)
100%
99.6%
20,208,781
3,881
5,207
90%
90.0%
18,257,722
3,579
5,102
80%
80.0%
16,228,326
3,050
5,321
70%
70.0%
14,196,751
2,577
5,510
60%
60.0%
12,180,630
2,225
5,475
50%
50.0%
10,140,591
1,956
5,185
40%
40.0%
8,116,313
1,796
4,519
30%
30.0%
6,089,412
1,539
3,957
20%
20.0%
4,057,687
1,353
3,000
10%
10.0%
2,024,873
1,201
1,686
Active Idle
0
828
0
∑ssj_ops / ∑power =
4,649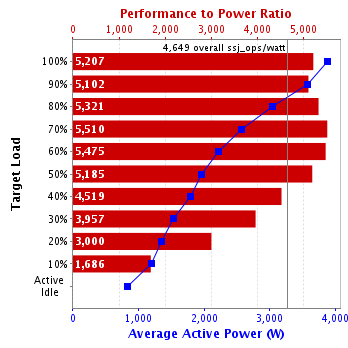 Software per Node
Power Management:
Power saver mode in OS (See Notes)
Operating System (OS):
Microsoft Windows Server 2008 Enterprise x64 Edition
OS Version:
R2 SP1
Filesystem:
NTFS
JVM Vendor:
Oracle Corporation
JVM Version:
Oracle Java HotSpot(TM) 64-Bit Server VM on Windows, version 1.6.0_30
JVM Command-line Options:
-server -showversion -Xmx1024m -Xms1024m -Xmn853m -XX:ParallelGCThreads=2 -XX:SurvivorRatio=60 -XX:TargetSurvivorRatio=90 -XX:InlineSmallCode=3900 -XX:MaxInlineSize=270 -XX:FreqInlineSize=2500 -XX:AllocatePrefetchDistance=256 -XX:AllocatePrefetchLines=4 -XX:InitialTenuringThreshold=12 -XX:MaxTenuringThreshold=15 -XX:LoopUnrollLimit=45 -XX:+UseCompressedStrings -XX:+AggressiveOpts -XX:+UseLargePages -XX:+UseParallelOldGC
JVM Affinity:
start /affinity [3, C, 30, C0, 300, C00, 3000, C000, 30000, C0000, 300000, C00000, 3000000, C0000000, 30000000, C0000000]
JVM Instances:
16
JVM Initial Heap (MB):
1024
JVM Maximum Heap (MB):
1024
JVM Address Bits:
64
Boot Firmware Version:
1.0.4
Management Firmware Version:
iDRAC7 1.00 Build 73
Workload Version:
SSJ 1.2.9
Director Location:
Controller
Other Software:
None
Adjacent Cache Line Prefetch disabled
Hardware Prefetcher Disabled
DCU Streamer Prefetcher disabled
User Accessible USB Ports set to Disabled
CPU Power management set to System DBPM (DAPC)
Memory Speed set to 1067MHz
Turbo Boost Disabled
C1E Enabled
C States enabled
QPI speed set to 6.4 GT/s
Memory Patrol Scrub disabled
Memory refresh rate set to 1x
Memory Operating Voltage set to Auto
Each JVM instance was affinitized to two logical processors.
Using the local security settings console, "lock pages in memory" was enabled for the user running the benchmark.
Run was started remotely via psexec script
Windows Power Saver Settings:

Turn off Hard Disk after 1 Minute
Turn off Display after 1 Minute
SPECpower_ssj.props input.load_level.number_warehouses set to 32 due to a known inconsistency in processor reporting with this Java version.
| Target Load | Average Active Power (W) | Minimum Ambient Temperature (°C) |
| --- | --- | --- |
| 100% | 3,881 | 21.5 |
| 90% | 3,579 | 21.6 |
| 80% | 3,050 | 21.6 |
| 70% | 2,577 | 21.6 |
| 60% | 2,225 | 21.6 |
| 50% | 1,956 | 21.6 |
| 40% | 1,796 | 21.6 |
| 30% | 1,539 | 21.5 |
| 20% | 1,353 | 21.5 |
| 10% | 1,201 | 21.5 |
| Active Idle | 828 | 21.4 |
Target Load
Actual Load
ssj_ops
Target
Actual
Calibration 1
20,176,594
Calibration 2
20,298,617
Calibration 3
20,287,999
ssj_ops@calibrated=20,293,308
100%
99.6%
20,293,308
20,208,781
90%
90.0%
18,263,977
18,257,722
80%
80.0%
16,234,646
16,228,326
70%
70.0%
14,205,316
14,196,751
60%
60.0%
12,175,985
12,180,630
50%
50.0%
10,146,654
10,140,591
40%
40.0%
8,117,323
8,116,313
30%
30.0%
6,087,992
6,089,412
20%
20.0%
4,058,662
4,057,687
10%
10.0%
2,029,331
2,024,873
Active Idle
0
0