Performance
Power
Performance to Power Ratio
Target Load
Actual Load
ssj_ops
Average Active Power (W)
100%
99.6%
1,123,597
306
3,677
90%
89.9%
1,013,844
291
3,481
80%
80.1%
903,747
276
3,279
70%
70.5%
795,600
252
3,153
60%
60.2%
678,792
229
2,961
50%
49.9%
563,198
203
2,770
40%
39.8%
448,983
178
2,522
30%
30.0%
338,544
155
2,181
20%
20.2%
228,297
134
1,706
10%
10.1%
113,656
112
1,014
Active Idle
0
77.0
0
∑ssj_ops / ∑power =
2,805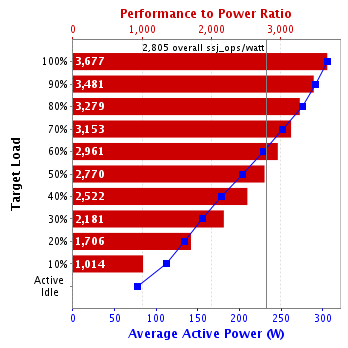 Hardware
Hardware Vendor:
Supermicro Computer Inc.
Model:
1022G-NTF
Form Factor:
1U
CPU Name:
AMD Opteron 6276
CPU Characteristics:
Sixteen-Core, 2.3GHz, 16MB L3 Cache
CPU Frequency (MHz):
2300
CPU(s) Enabled:
32 cores, 2 chips, 16 cores/chip
Hardware Threads:
32 (1 / core)
CPU(s) Orderable:
1,2 chips
Primary Cache:
512 KB I + 256 KB D on chip per chip
Secondary Cache:
16 MB I+D on chip per chip, 2 MB shared / 2 cores
Tertiary Cache:
16 MB I+D on chip per chip, 8 MB shared / 8 cores
Other Cache:
None
Memory Amount (GB):
32
# and size of DIMM:
8 x 4096 MB
Memory Details:
4GB 2Rx4 PC3L-10600R ECC CL9; slots 1A, 2A, 3A, 4A, populated for each socket
Power Supply Quantity and Rating (W):
1 x 560
Power Supply Details:
Supermicro Computer Inc. PWS-563-1H20
Disk Drive:
1 x 256GB Crucial C300 SATA SSD
Disk Controller:
Integrated AMD SP5100 SATA Controller
# and type of Network Interface Cards (NICs) Installed:
2 x Intel 82576 Gigabit NIC
NICs Enabled in Firmware / OS / Connected:
2/2/1
Network Speed (Mbit):
1000
Keyboard:
None
Mouse:
None
Monitor:
Direct
Optical Drives:
Yes
Other Hardware:
None
C-State Mode set to C6. HT Speed Support set to HT1. Fan Speed Control Mode set to Energy Saving/ES.
Primary cache architecture for the processor is 512 KB I cache on chip per chip with 64 KB shared per 2 cores, and 16 KB D cache on chip per core
Each JVM instance was affinitized to 4 cores.
Using the local security settings console, "lock pages in memory" was enabled for the user running the benchmark.
Run started via Remote Desktop
Sabrent SBT-USC1M USB-to-Serial converter was used to connect power analyzer to CCS system.
Target Load
Actual Load
ssj_ops
Target
Actual
Calibration 1
1,117,713
Calibration 2
1,128,378
Calibration 3
1,127,602
ssj_ops@calibrated=1,127,990
100%
99.6%
1,127,990
1,123,597
90%
89.9%
1,015,191
1,013,844
80%
80.1%
902,392
903,747
70%
70.5%
789,593
795,600
60%
60.2%
676,794
678,792
50%
49.9%
563,995
563,198
40%
39.8%
451,196
448,983
30%
30.0%
338,397
338,544
20%
20.2%
225,598
228,297
10%
10.1%
112,799
113,656
Active Idle
0
0