Performance
Power
Performance to Power Ratio
Target Load
Actual Load
ssj_ops
Average Active Power (W)
100%
99.9%
2,402,711
430
5,587
90%
90.0%
2,164,748
368
5,883
80%
80.0%
1,924,547
320
6,016
70%
69.9%
1,682,279
279
6,036
60%
60.0%
1,444,061
245
5,891
50%
50.0%
1,201,966
217
5,547
40%
40.0%
961,643
201
4,780
30%
30.1%
724,279
184
3,930
20%
20.0%
480,791
166
2,890
10%
10.0%
240,352
147
1,632
Active Idle
0
92.7
0
∑ssj_ops / ∑power =
4,991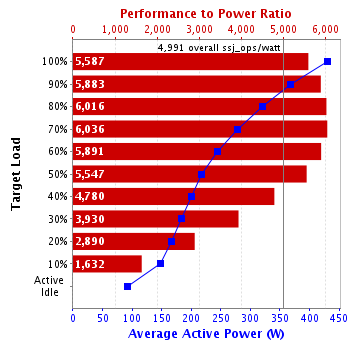 Software
Power Management:
Power Saver enabled in OS
Operating System (OS):
Microsoft Windows Server 2008 Enterprise x64 Edition
OS Version:
R2 SP1
Filesystem:
NTFS
JVM Vendor:
Oracle Corporation
JVM Version:
Oracle Java HotSpot(TM) 64-Bit Server VM on Windows, version 1.6.0_30
JVM Command-line Options:
-server -Xmx1600m -Xms1600m -Xmn1200m -XX:ParallelGCThreads=2 -XX:SurvivorRatio=60 -XX:TargetSurvivorRatio=90 -XX:InlineSmallCode=3900 -XX:MaxInlineSize=270 -XX:FreqInlineSize=2500 -XX:AllocatePrefetchDistance=256 -XX:AllocatePrefetchLines=4 -XX:InitialTenuringThreshold=12 -XX:MaxTenuringThreshold=15 -XX:LoopUnrollLimit=45 -XX:+UseCompressedStrings -XX:+AggressiveOpts -XX:+UseLargePages -XX:+UseParallelOldGC
JVM Affinity:
start /affinity [0xF,0xF0,0xF00,0xF000,0xF0000,0xF00000,0xF000000,0xF0000000,0xF00000000,0xF000000000,0xF0000000000,0xF00000000000,0xF000000000000,0xF0000000000000,0xF00000000000000,0xF000000000000000]
JVM Instances:
16
JVM Initial Heap (MB):
1600
JVM Maximum Heap (MB):
1600
JVM Address Bits:
64
Boot Firmware Version:
V023
Management Firmware Version:
3.00
Workload Version:
SSJ 1.2.9
Director Location:
Controller
Other Software:
None
Hardware prefetcher -disabled.
Adjacent Cache Line Prefetch -disabled.
DCU Streamer Prefetcher -disabled.
Intel HT Technology -enabled.
Turbo mode -enabled.
C-state -enabled.
Power Mode -Efficiency.
QPI Link Speed -6.4GT/s.
Memory Frequency Limit -1333MHz.
Demand Scrubbing -disabled.
USB configuration EHCI 2 -disabled.
The test was started via Remote Desktop.
Minimum Processor State: 0%.
Maximum Processor State: 100%.
Turn off hard disk after 1 minute .
Each JVM instance was affinitized to four logical processors.
Using the local security settings console, "lock pages in memory" was enabled for the user running the benchmark.
SPECpower_ssj.props input.load_level.number_warehouses set to 64 due to a known inconsistency in processor reporting with this Java version.
Target Load
Actual Load
ssj_ops
Target
Actual
Calibration 1
2,377,855
Calibration 2
2,409,070
Calibration 3
2,401,061
ssj_ops@calibrated=2,405,066
100%
99.9%
2,405,066
2,402,711
90%
90.0%
2,164,559
2,164,748
80%
80.0%
1,924,052
1,924,547
70%
69.9%
1,683,546
1,682,279
60%
60.0%
1,443,039
1,444,061
50%
50.0%
1,202,533
1,201,966
40%
40.0%
962,026
961,643
30%
30.1%
721,520
724,279
20%
20.0%
481,013
480,791
10%
10.0%
240,507
240,352
Active Idle
0
0