The 2022 SPEC Presidential Award Laureate
Nelson Amaral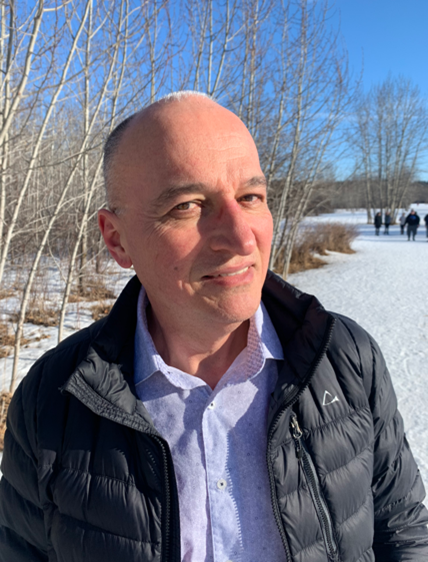 Jose Nelson Amaral, a highly respected professor of computing science, is very engaged with his students and has contributed extensively to the organization of international conferences and many peer-reviewed journals. A native of Brazil, he received his Ph.D. in Electrical and Computer Engineering from the University of Texas, Austin, in 1994. He also did his post-doctoral work at the University of Delaware. He then took a full professorship in computing science at the University of Alberta, Canada. His current research focuses on high-performance computing, compiler design and optimization, performance evaluation, and other related areas. He is also an accomplished chef and avid gardener.
You might think that would be enough accomplishments for one person, but Nelson is also a devoted member of SPEC. In fact, he has held an incredible number of positions, including a SPEC director, SPEC Awards Committee Chair, SPEC Research Group (RG) Steering Committee member, International Conference on Performance Engineering (ICPE) Steering Committee member, ICPE General Co-Chair, ICPE Program Committee Co-Chair, Kaivalya Dixit Distinguished Dissertation Selection Committee Chair, and RG Election Officer. He was one of the founding members of both SPEC RG and ICPE and has been instrumental in shaping their development over the past 10 years
A long involvement with SPEC
More than a decade ago, Nelson's focus on computing performance and the relationship between academic research and the technology industry led him to be an active participant in the Evaluate Collaboratory, a group of concerned researchers who focused on the evaluation of software and systems in computer science. The group conducted a number of workshops on performance evaluation, and though the group is inactive because of the pandemic, it has been extremely influential in educating people and changing the way evaluations are presented in academic publications.
This work also led Nelson to SPEC. He was concerned about how the SPEC CPU Benchmark might impact the types of research, optimizations and investigations that occur in academia, and he wanted to ensure the benchmark would remain relevant in academic settings. So he joined SPEC, helped establish the SPEC Research Group, and work tirelessly to improve the benchmark and educate both the industry and academia. He even involved his students, who provided valuable feedback that helped improve the differentiation between training and reference workloads, which in turn made the use of the benchmark for the evaluation of feedback directed optimization in compilers more meaningful. This work, which was important to both the SPEC CPU 2006 and 2017 Benchmarks, also led to the creation of the Alberta Workloads for the SPEC CPU 2017 Benchmark.
Along the way, Nelson got elected to the SPEC Board of Directors, where he found many other areas of SPEC that could benefit from his participation. One area he was particularly interested in was making sure SPEC maintained its relevance internationally and did not, for political reasons, unwittingly devolve into a U.S.-only focused group. His efforts have indeed helped SPEC continue to grow as an internationally relevant and respected organization.
Nelson also worked to grow ICPE into a thriving and influential event with participation from key organizations around the world, and he helped established the Kaivalya Dixit Distinguished Dissertation Award in 2011 to recognize outstanding dissertations in the field of computer-system benchmarking, performance evaluation, and experimental system analysis in general.
Life beyond technology
Outside of technology and SPEC, one of Nelson's passions is cooking, especially many Brazilian dishes. Years ago, he started bringing his unique creations to parties and other gatherings, and after multiple requests for recipes, he created his own website, From Nelson's Kitchen, which lists more than 100 recipes from every food category, from appetizers to desserts, some adapted from other recipes, some completely original. He also started a cooking club, Cooking in Nelson's Kitchen. A group of his university students would gather to cook meals together. They met in Nelson's kitchen until the pandemic restricted the event to backyard gatherings during the summer.
And, yes, Nelson still finds time for gardening. Along with his husband, he maintains a prolific vegetable garden at their Canadian home. Friends in their neighborhood have grown accustomed to hearing a knock on the door on some summer evenings and being met with a delivery of fresh produce, including salad greens, carrots and squashes.
The Value of SPEC
While Nelson, like every SPEC member, acknowledges the incredible commitment and contributions of every SPEC volunteer, he is also keenly aware of the contributions made by the organizations that make staff time available for participation in SPEC. These organizations have been instrumental in what SPEC has become.
Says Nelson, "SPEC has been able to develop its high-quality benchmarks, which are broadly used and well respected by both the international tech industry and academia, because it has not only committed individuals but also committed organizations. We have to remember that many of the people who contribute their time to SPEC are sponsored by organizations that allocate time for these individuals to do their work on behalf of SPEC. These organizations are essential for helping to keep SPEC relevant."
Congratulations Nelson on receiving the 2021 SPEC Presidential Award!